A patient history
A review of your records
A problem focused examination
X-rays (only if appropriate)
A recommendation for care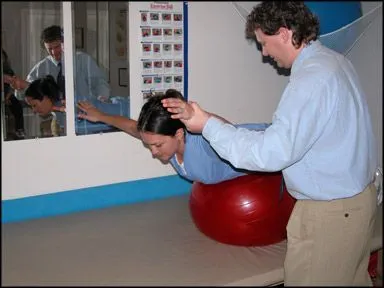 You should expect to be greeted by a friendly staff. They will ask you to fill out the usual doctor's office forms. Sorry about that, but we promise you'll only be asked to do it once. Then the doctor will sit down with you and get a detailed history of your complaint. Extra time is allotted for new patients. He will ask you questions that relate to your injury and your overall health. The doctor will perform a professional and appropriate examination. New patients usually have their blood pressure taken. Although our office has full lab service, most patients do not require blood tests. As most musculoskeletal injuries are examined with manual orthopedic tests, it is unlikely you would need to wear a gown. We know how uncomfortable and awkward gowns are. The doctor will discuss a diagnosis with you and a suggested course of treatment. X-rays are ordered only if they are needed. No treatments are provided until you, the patient, is comfortable and fully understand the treatments suggested.

What you should not expect:
You should not expect a pressured, rushed, or condescending atmosphere in our office. The doctor and his staff pride themselves on providing an environment that is friendly, relaxing, and conducive to healing. You will not wait long in the waiting room. You will not be pressured into life long treatment plans. You will not be left with the feeling that we don't greatly appreciate your trust, and your business.
To schedule an appointment today, call (757) 723-9131!